Philosophy
UbuntuAmulet is a part of LifeTree's holistic concept.
What unites us as human beings is much greater than what divides us. Ubuntu means: 'I am because we are'. Together we are One. No matter one's cultural background, faith, race or sexual orientation. When we truly realise this, we can create a more loving and peaceful world. The design of the UbuntuAmulet is inspired by the Ubuntu philosophy.
Like the LifeTree logo, the core of the UbuntuAmulet logo contains three persons with linked hands and hearts. They represent the LifeTree core values: trust, interconnectedness and humanity.
The symbols between the head, heart and hands of these three persons on the UbuntuAmulet are belief symbols: Judaism, Christianity, Islam, Buddhism, Atheism and Hinduism.
With these symbols we represent that from the above values, and with respect for everyone, people with various beliefs can form a unity in diversity together.
Identity and value sessions
The UbuntuAmulet logo is used in various ways in the UbuntuAcademy identity and value sessions. The goal is to enter into dialogue with each other, to get to know each other better, and to learn from one another. The UbuntuAmulet Zamak - Pay It Forward set, consisting of two bracelets, is part of the 'Pay It Forward' assignment in this session.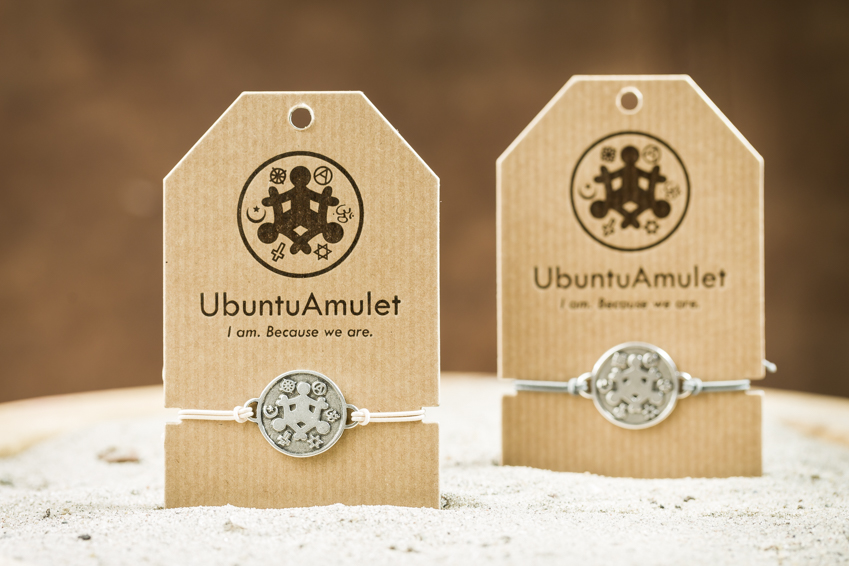 Amulets
By wearing the UbuntuAmulet, you show others that you want to contribute to a respectful, peaceful and positive society.